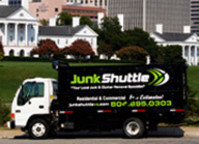 Junk Shuttle, offers junk hauling and demolition services to help customers during estate cleanouts, spring cleanings, renovations, and other periods of transition. Whether you've suddenly found yourself with the responsibility of arranging furniture disposal for your great aunt's estate or want to clear your garage of miscellaneous junk, our trash removal company can help you. Junk Shuttle is available to remove trash from both business and residential locations, and we can accommodate jobs of all sizes, from single item removal to large-scale junk hauls.
Licensed and insured
Demolition services
Garbage removal
Free estimates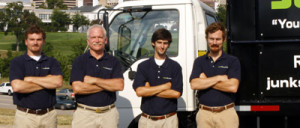 Professional junk hauling speeds up any trash removal project. If you're not looking forward to carrying all that garbage out or are unsure about local electronics or appliance disposal regulations, leave it to us. We take care of all of the tough work so you can concentrate on more important matters. Our team does not cut corners and will leave your space clean and ready for a new purpose. So instead of loading items into your car and making multiple trips across town to the transfer station, call Junk Shuttle, today. We make junk removal service simple, straightforward, and affordable!

Located in Midlothian, Virginia, Junk Shuttle, serves the greater Richmond area, including Petersburg, Hopewell, Ashland, Williamsburg, Mechanicsville, and communities throughout Prince George, Chesterfield, Hanover, and Henrico counties. We are a local, family-owned junk hauling business with one goal, and one goal only: to provide high-quality trash removal service that will leave our customers 100% satisfied. From construction demolition to furniture disposal, our team is excited to help area homes and businesses achieve their goals by fulfilling all of their garbage removal needs.
If you want speedy trash removal without having to lift a finger, Junk Shuttle is your answer. Our customers can expect complete and speedy service on every job, every time. Don't just learn to live with eyesores or waste an entire Saturday cleaning out your space. For your free estimate and more details about the benefits of professional junk removal for your home or business, contact Junk Shuttle now.
Our trash removal team is fully licensed and insured.